Home > | Metal Products - Colored Diffusers
Colored Diffusers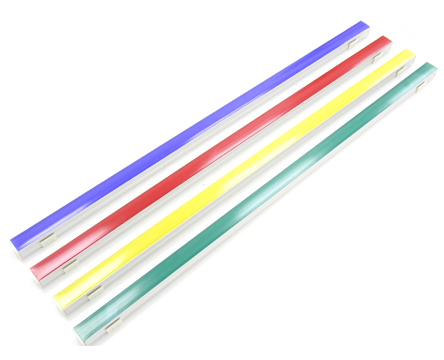 Mechatech LED profiles has a wide range of ready-made portfolio in terms of the anodized
aluminium profiles, flame retardant, coloured diffusers and light diffusion properties. It allows responding to sudden requirements changes and last minutes' design change, while emphasizing the decorative effect in the process.
The coloured diffusers manufactured from coloured built-in polycarbonate resins, give a lifetime protection of the pigmented diffusers, hides the LED strip and protects it against dust while ensuring uniform lighting, without the diffusers losing any effectiveness or wearing off.
Our coloured diffusers also ensure glare-free wall lighting that hardly casts any shadows and spreads out perfectly within rooms, and eliminates the need to change the LED strip by keeping it and only changing the diffuser. This gives the product more functionality and ability of customization while still maintaining the quality of the product.