Home > |
UAE Flag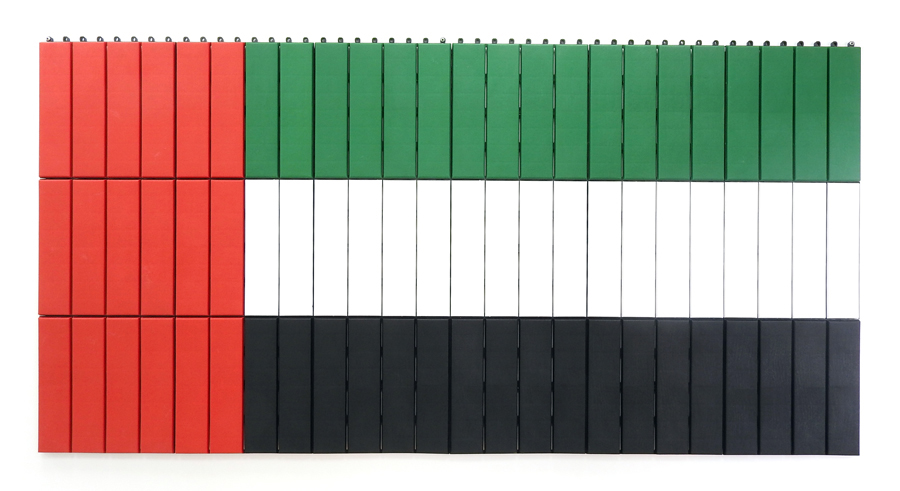 Understanding a flag is like understanding the country and its people, so, in the spirit of the upcoming National and Flag days, we Mechatech Industries emerged from patriotism feelings and our loyalty to the homeland and its leadership thought of creative initiative to express our loyalty and love to UAE by manufacturing the UAE Flags from the best resins that contain UV stabilizer to protect the material and colors from the direct sun light for over 20 years.
The PP copolymer flags are steady, permanent and easy to fix without any additives and tools. The dimensions of each part is 30x30cm, and the design of the base system makes installation easy so that anyone can do it themselves. The parts simply snap together over any surface and a single labor will be able to install 200sqm in less than 8 hours.
You will be proud to lay a UAE flag vertically or horizontally on interior or exterior wall, or put a big one on your building's roof or open area, enabling the aircrafts flying over to see the flag of the Emirates. And if interested for a special big event, we could fix a flag the size of many football fields.
The 3rd of November is UAE's National Flag Day. Created in 1971 for the country's formation, the flag of the United Arab Emirates is a symbol of much pride for Emiratis, it must be respected and treated with honor. While the UAE's flag is made up of the traditional pan-Arab colors, what those colors represent is important in a special way to Emiratis.
Red
Red represents hardiness, bravery, strength and courage. The vertical red band can also be interpreted as binding all the other meanings together in unity.
Green
Green represents hope, joy, optimism and love. It can also symbolize the country's prosperity.
White
White represents peace and honesty. White is the purest color, and is interpreted by some to symbolize cleanliness and peace.
Black
Contrary to popular belief, the black band does not represent oil. It stands for the defeat of enemies, and also strength of mind.